All visitors must make an online reservation.
Open hours:From 10:00 a.m. to 6:00 p.m.(Last admission at 5:30 p.m.)
Days closed:Mondays (or the following day if a nationalholiday falls on Monday),
New Year's holiday, exhibit change period
Admission fee: Free (Some planned exhibitions may have entrance fees)
 Tokiwaso, that was once located at Shiinamachi (current Minami-Nagasaki) in Toshima City, is a legendary apartment building where great modern manga artists including Tezuka Osamu lived together and spent their youth there. The original Tokiwaso was demolished in December 1982, but it was rebuilt as a manga museum thanks to the great support from many people. We do our best as the initiator of manga and anime culture to transmit the culture to the next generation. We would like sincerely to thank all donors, contributors and cooperators for helping us to open the museum and we would also greatly appreciate your further guidance and encouragement.
Toshima City Tokiwaso Manga Museum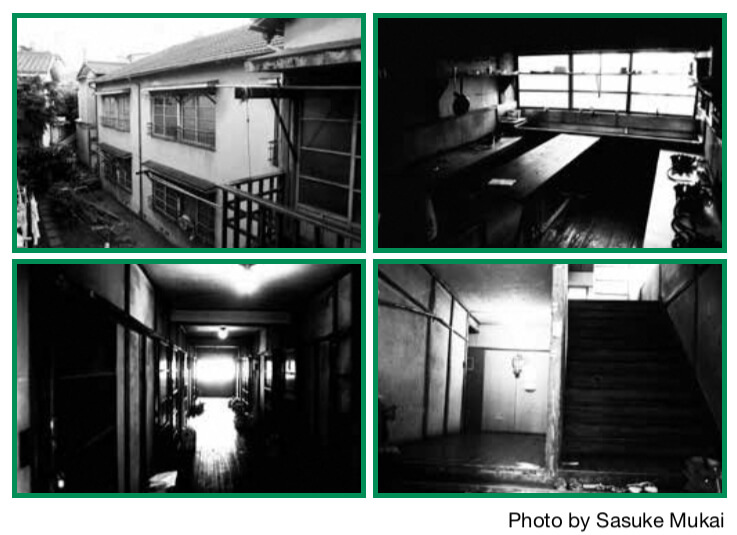 Tokiwaso
 Tokiwaso is a two-story apartment building whose framework was set up at 2253, 5-Chome, Shiinamachi, Toshima City on December 6, 1952 and was an ordinary building in those days. In the following year, Tezuka Osamu moved to this apartment building thanks to Gakudosha, who was the publisher of the magazine "Manga Shonen," finding it for him. After around a year, Terada Hiroo moved to this apartment building in the same manner. Later, Tokiwaso became a gathering spot of young manga artists who came up to Tokyo. They improved themselves through friendly rivalry and continued developing the possibilities of manga.
Manga artists in connection with Tokiwaso
Akatsuka Fujio, Ishinomori Shotaro, Suzuki Shinichi, Sonoyama Shunji, Tsunoda Jiro, Tezuka Osamu, Terada Hiroo, Nagata Takemaru, Nagatani Kunio, Fujiko.F.Fujio, Fujiko Fujio Ⓐ, Maruyama Akira (Editor), Mizuno Hideko, Moriyasu Naoya, Yamauchi Jhoji, Yokota Tokuo, Yokoyama Takao.
(Japanese syllabary order; honorifics omitted)
Town where Tokiwaso was located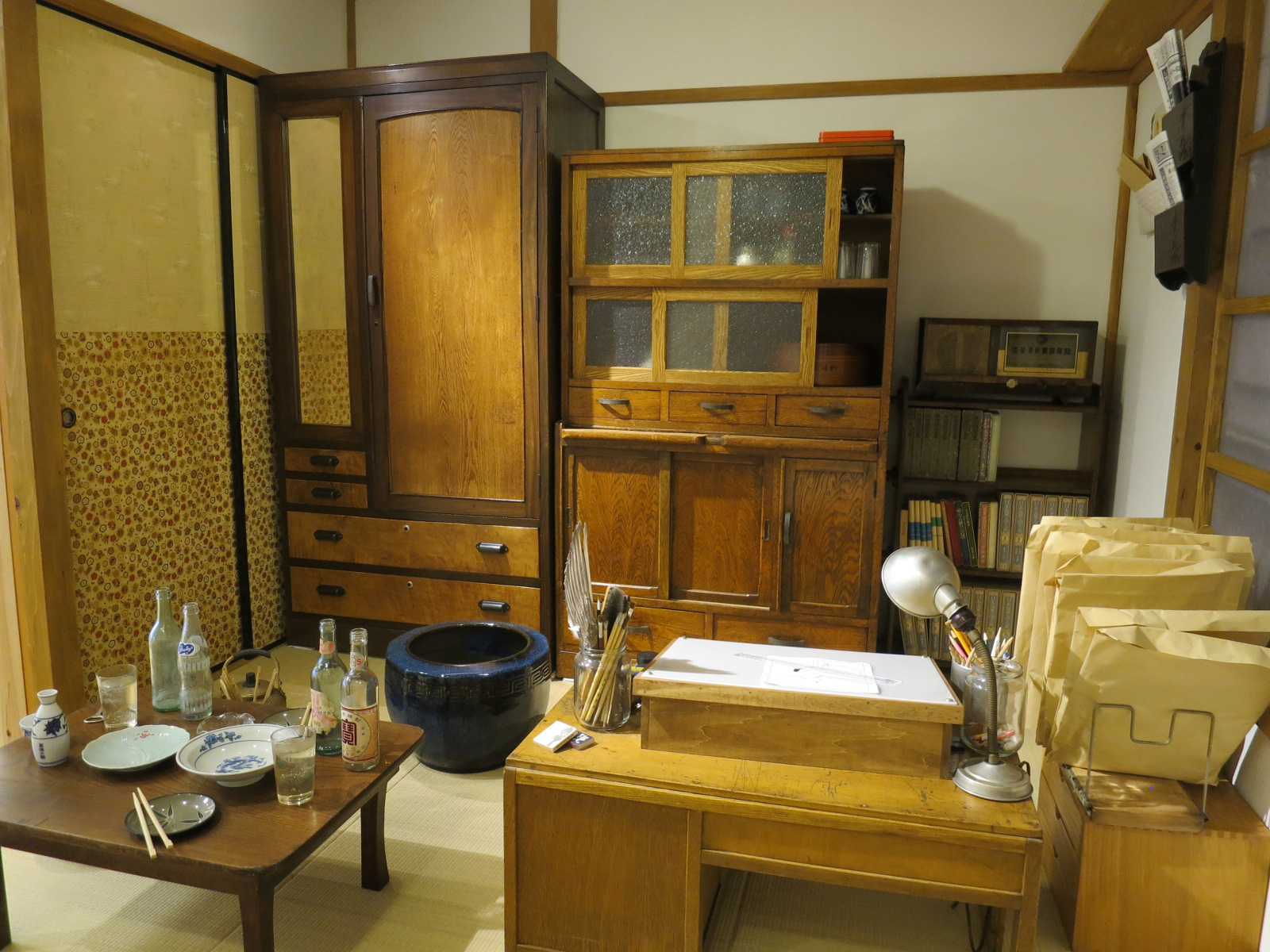 The area around Minami-Nagasaki where the museum is located has many noteworthy spots related to Tokiwaso and manga. In Tokiwaso Street Oyasumidokoro, the reproduced room of Terada Hiroo is displayed and related merchandise is on sale.
Floor Guide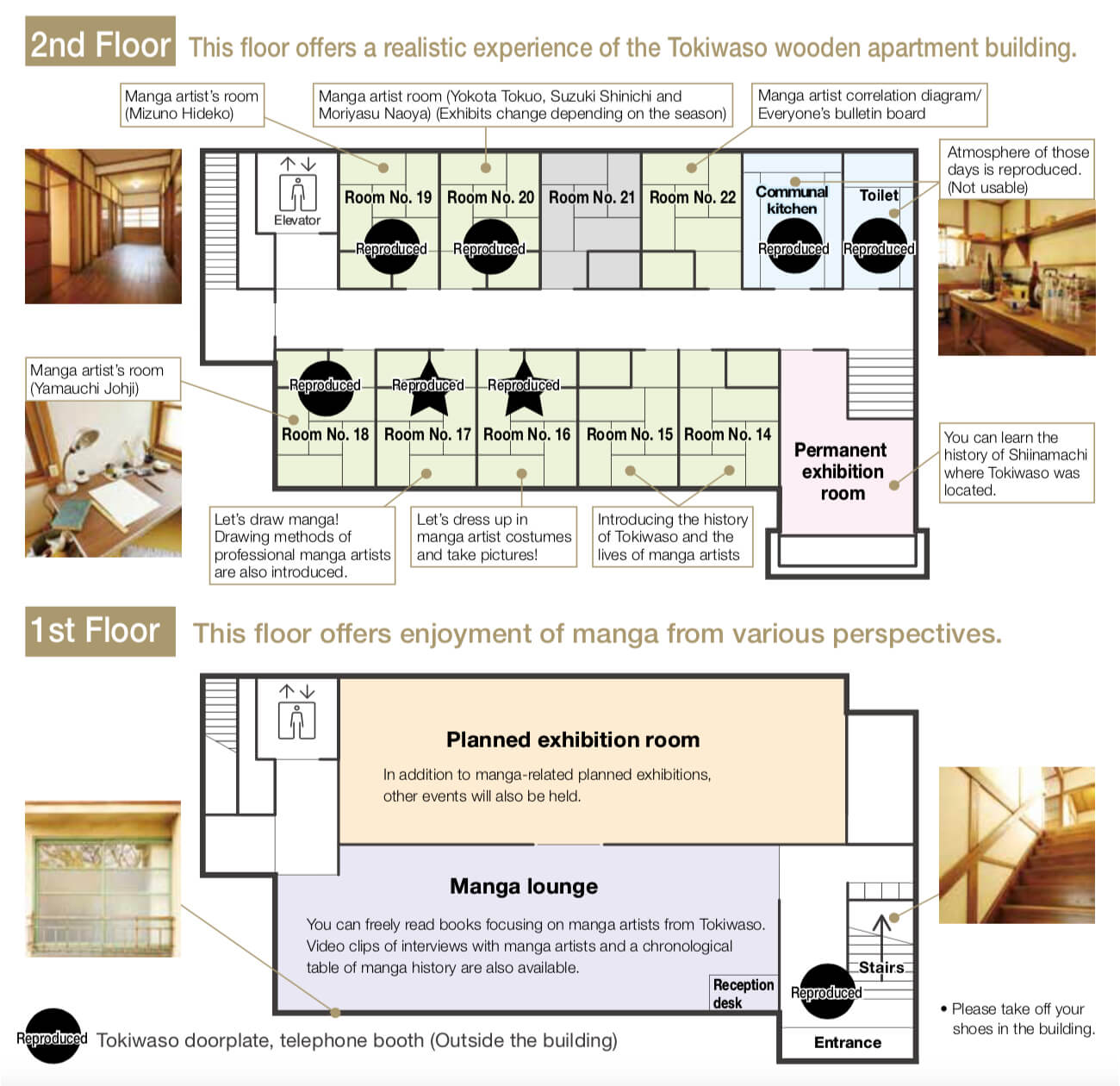 Visitor Guide
Open hours:

From 10:00 a.m. to 6:00 p.m.
(Last admission at 5:30 p.m.)
Days closed:

Mondays (or the following day if a nationalholiday falls on Monday),
New Year's holiday, exhibit change period
Admission fee:

※ Free (Some planned exhibitions may have entrance fees)
Access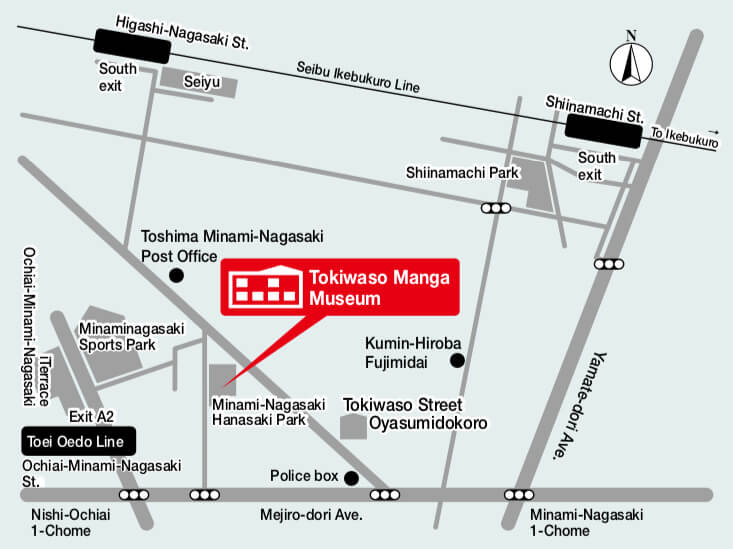 Walk for 5 minutes from the Toei Oedo Line at Ochiai-Minami-Nagasaki Station

Walk for 10 minutes from the Seibu Ikebukuro Line at Higashi-Nagasaki Station

Walk for 15 minutes from the Seibu Ikebukuro Line at Shiinamachi Station