About Reservations
In order to ensure a safe experience for all visitors, those with reservations are given priority for admission. However, you can still enter without a reservation if there are not too many other visitors at that time.
Tokiwaso
Tokiwaso is a two-story apartment building whose framework was set up at 2253, 5-Chome, Shiinamachi, Toshima City on December 6, 1952 and was an ordinary building in those days. In the following year, Tezuka Osamu moved to this apartment building thanks to Gakudosha, who was the publisher of the magazine "Manga Shonen," finding it for him. After around a year, Terada Hiroo moved to this apartment building in the same manner. Later, Tokiwaso became a gathering spot of young manga artists who came up to Tokyo. They improved themselves through friendly rivalry and continued developing the possibilities of manga.
Although it was demolished in December 1982 due to aging, thanks to the help of many supporters,it was reconstructed as a manga museum. With cooperation from manga and anime lovers,the museum is the site of planned exhibition and other events as a hub to share manga and anime culture and pass it down to future generations.
Toshima City Tokiwaso Manga Museum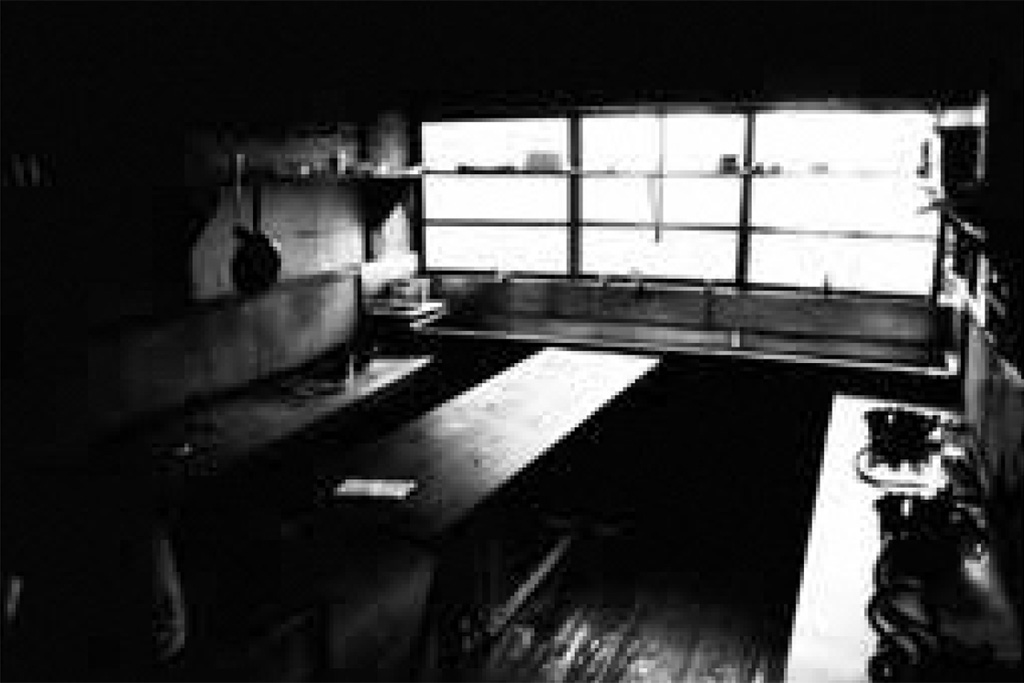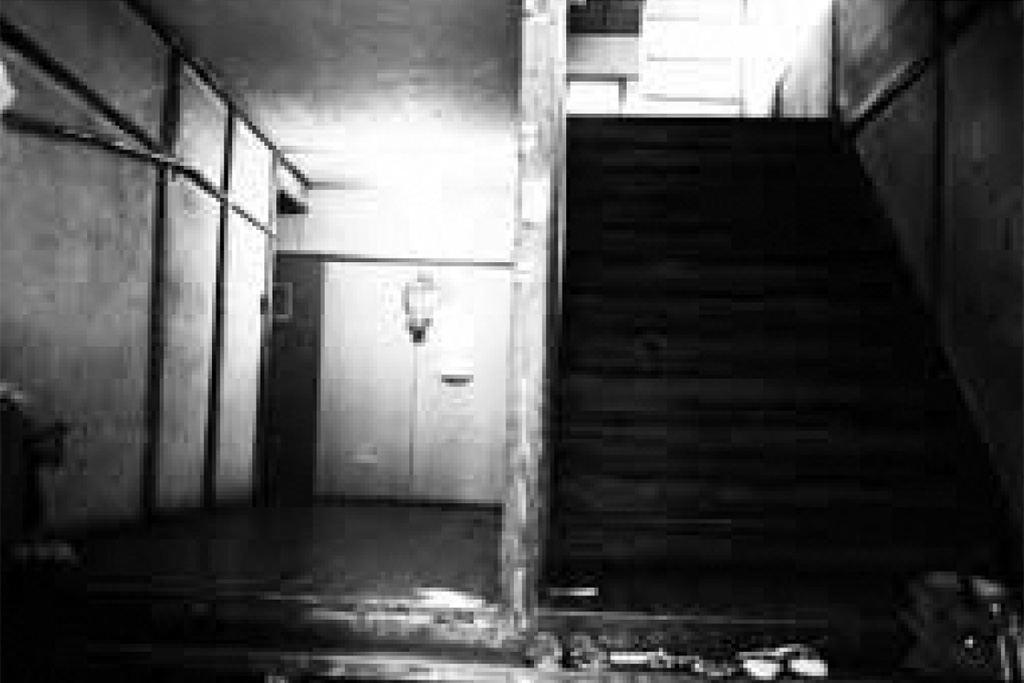 Tokiwaso
Photo by Sasuke Mukai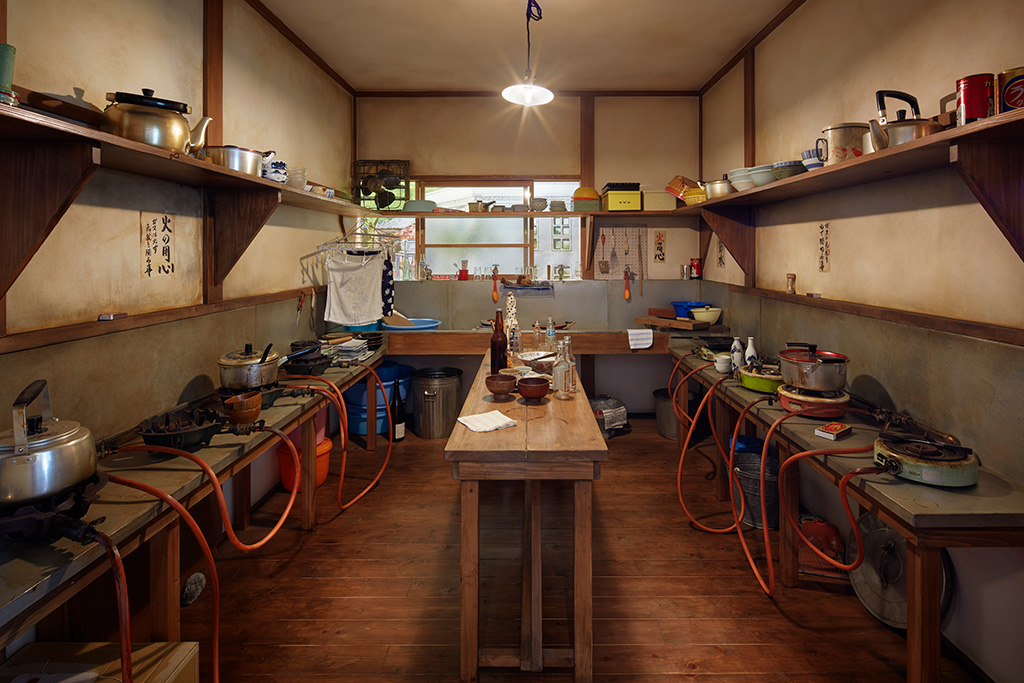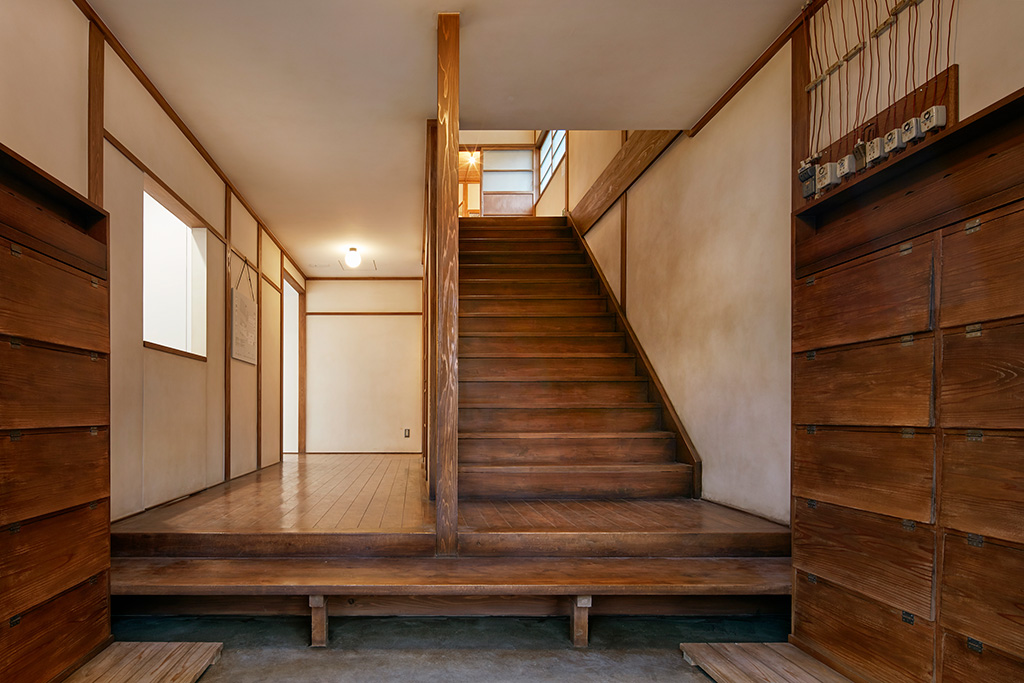 Tokiwaso Manga Museum
ⓒForward Stroke inc.
Connected Manga Artists
Akatsuka Fujio,Ishinomori Shotaro,Suzuki Shin'ichi', Sonoyama Shunji,Tsunoda Jiro,Tezuka Osamu, Terada Hiroo,Nagata Takemaru,Nagatani Kunio, Fujiko F.Fujio, Fujiko FujioⒶ,Maruyama Akira(editor), Mizuno Hideko,Moriyasu Naoya,Yamauchi Johji, Yokota Tokuo,Yokoyama Takao
Floor Guide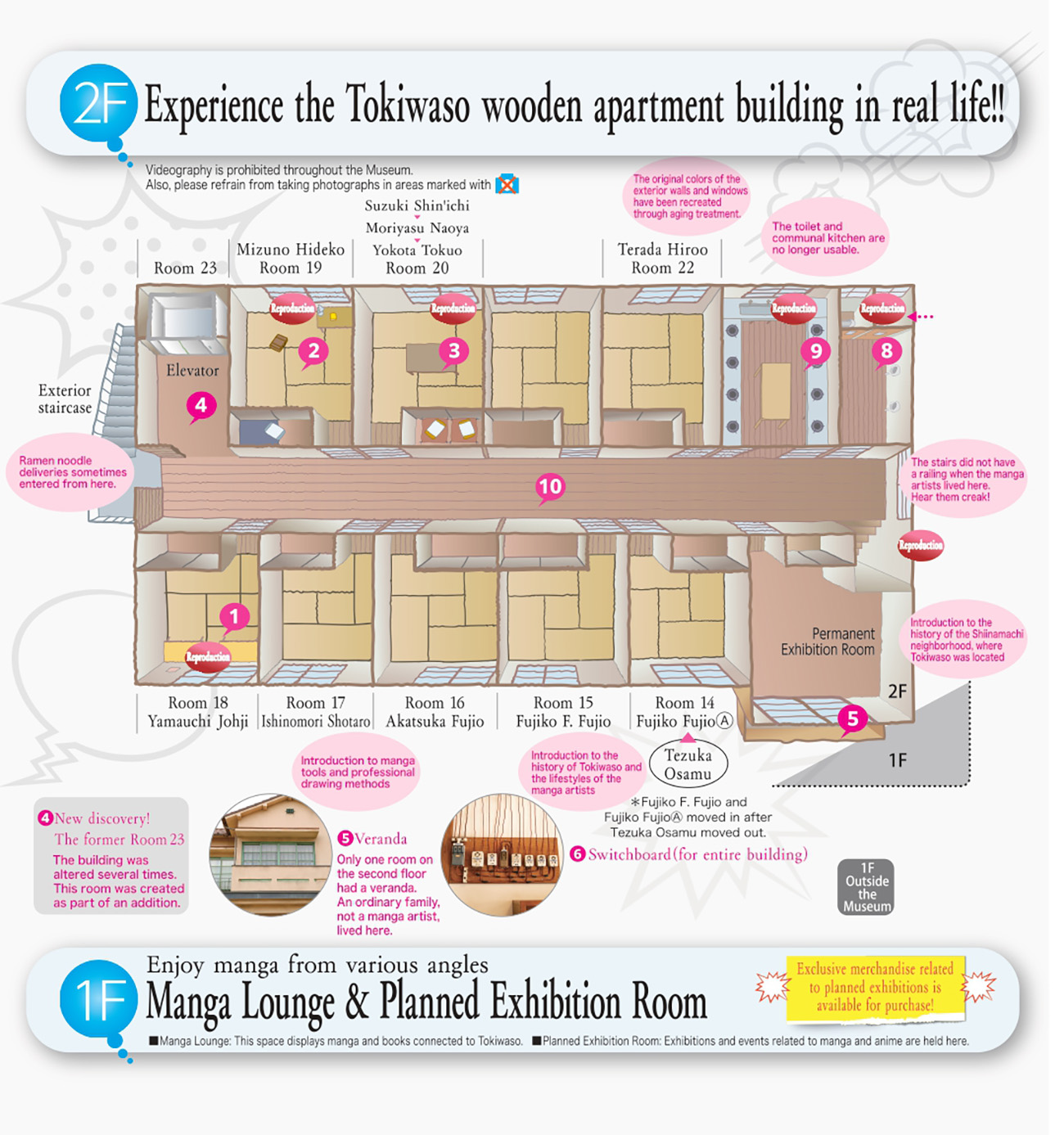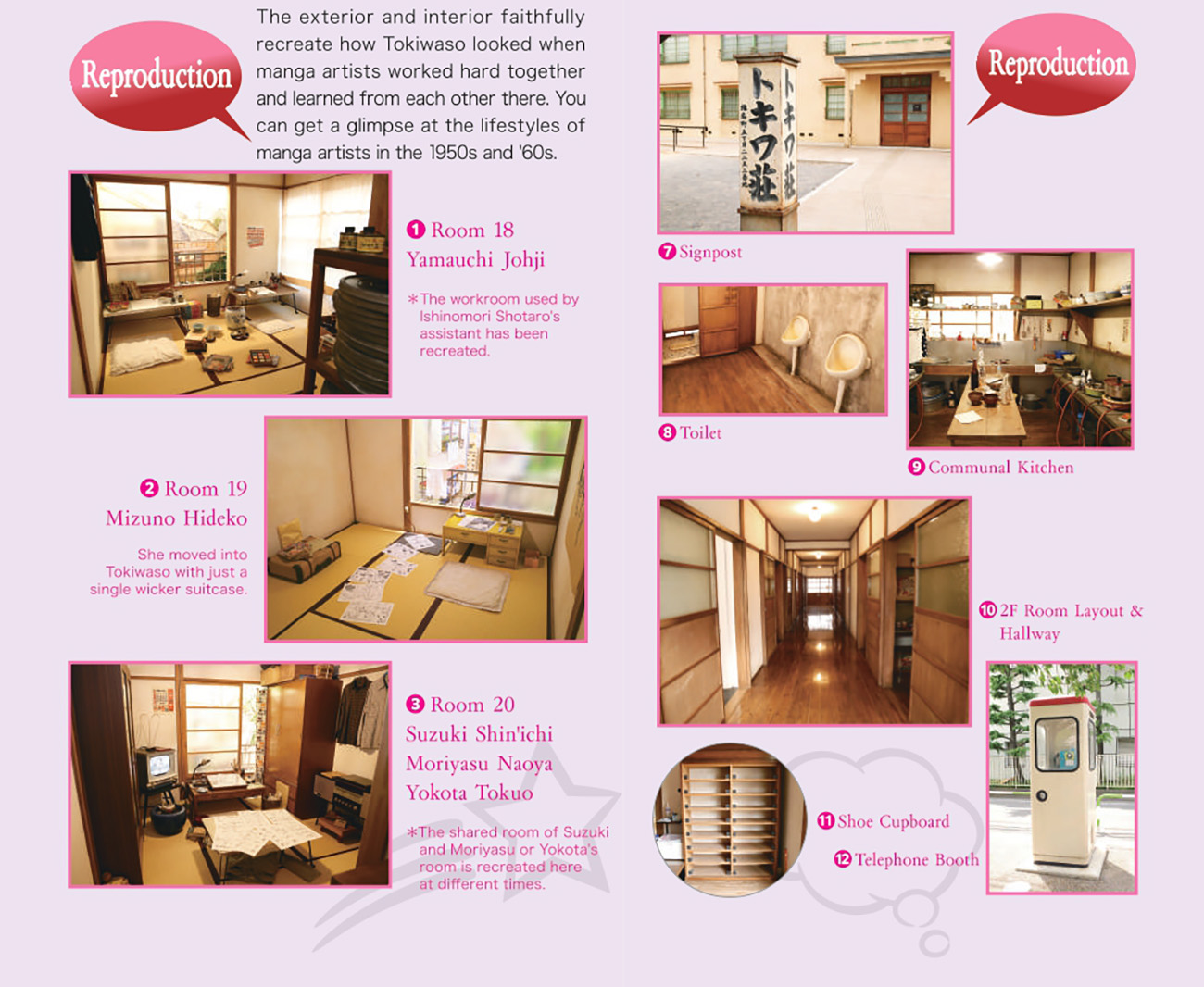 Visitor Guide
Open hours:

From 10:00 a.m. to 6:00 p.m.
(Last admission at 5:30 p.m.)
Days closed:

Mondays (or the following day if a nationalholiday falls on Monday),
New Year's holiday, exhibit change period
Admission fee:

Admission fee required to enter all areas of the Museum during special planned exhibitions(Please check the Museum's website for details.)
Visitor Rules
- Visitors must remove their shoes before entering the Museum. As entering barefoot is not permitted, please come wearing socks or bring them with you.
- Please do not bring food or beverages inside the Museum. Beverages in lidded containers such as plastic bottles are permitted if kept inside a bag. Also, please do not eat or drink inside the Museum.
- Smoking is prohibited throughout the Museum.
- Please refrain from taking photographs inside the Museum, except in certain areas.
- Videography, flash photography, and photography using a selfie stick are prohibited throughout the Museum.
- Please do not bring perishable items such as fresh flowers inside the Museum.
- Please do not bring pets inside the Museum. Assistance dogs are permitted.
- Hazardous items may not be brought inside the Museum.
- Pencils are the only writing implements that may be used inside the Museum.
- Visitors under the influence of alcohol will not be admitted.
- Please do not spend long periods of time in a single part of the Museum.
- Please do not talk on a mobile phone inside the Museum.
- Please refrain from behavior that may disturb other visitors.
- Unauthorized posting, distribution, or display of advertisements and sales are not permitted inside the Museum or on the Museum premises.
- Please comply with any other instructions from staff members.
- The Museum does not accept responsibility for any accidents, incidents of theft, loss, or damage inside the facility due to visitors' negligence.
- The Museum does not accept responsibility for any personal disputes between visitors.
Main Facilities/Services
Restrooms
Restrooms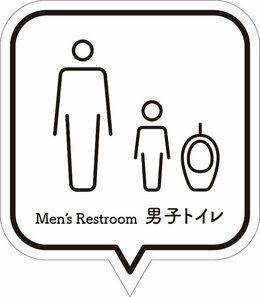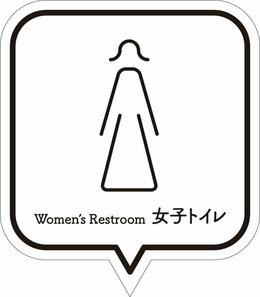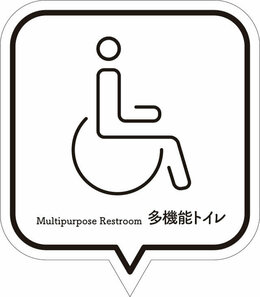 Ostomate toilet
Ostomate toilet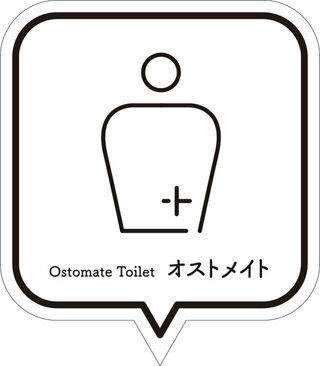 Infant bed
Infant bed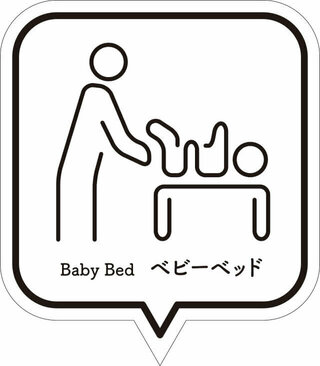 Highchair
Highchair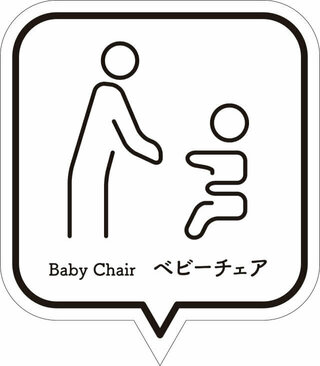 Elevator
Elevator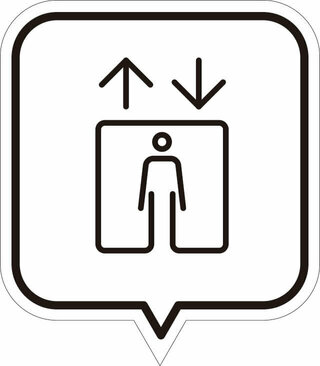 Coin lockers
Coin lockers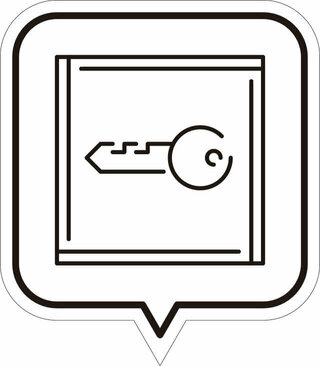 Stroller storage
Stroller storage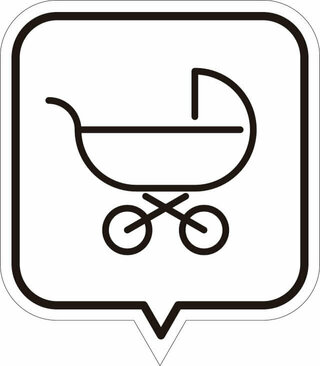 Private bicycle parking
Private bicycle parking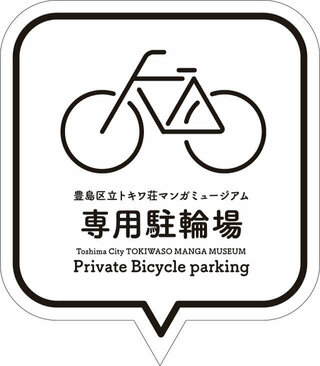 The Museum also has a reserved parking lot for coach buses (two spaces) and a handicapped parking lot (two spaces).
To use these, please contact the Museum in advance.
There is no general visitors' parking lot.